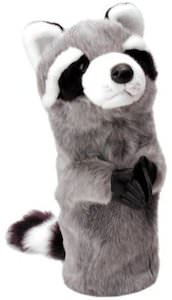 Why have bare golf clubs when you can make them look fun and protect them at the same time with a nice golf club head cover.
This golf club head cover looks like a raccoon that likes to play golf.
The golf club cover will fit a 460cc club and not only protects it, it also makes it easy to find in between all you other clubs.
If you are ready for a round of golf then why not get a golf club head cover that looks like an animal.
This racoon with his cute tail would love to play a round with you so just come and get your Racoon Golf Club Head Cover.